The ideal customer support model is one where support agents are not needed at all. By establishing a robust self-service model, you not only reduce support investment but also free up the time for your support team to focus on other pressing customer issues.
Most importantly, you empower your customers to self-serve themselves - thereby ensuring quick and effective customer experience without creating too many dependencies.
A well-written knowledge base can help your organization achieve greater customer satisfaction and improve customer loyalty.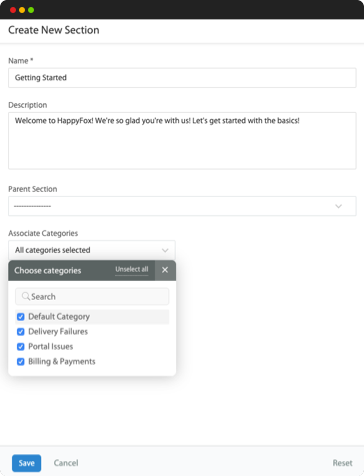 Step: 2
Constructing the Knowledge Base
The HappyFox online knowledge management tool allows your repository to be the one-stop-shop for all issues. Right from technical guides with appropriate screenshots, references from other sources, complete instruction manuals, technical documentation, FAQ pages, and demo videos, HappyFox lets you store all your information in an easily accessible manner. You can create knowledge base content right from the support ticket so that you can save the time spent in creating a new article.